Pathways to Health Equity for the G20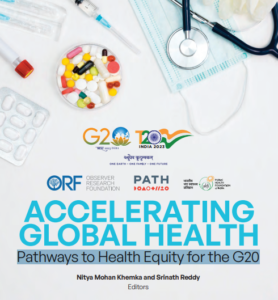 Dear Friends/ Colleagues,
I'm delighted to share that our chapter on Antimicrobial Resistance (AMR) has been included in the recently published book titled "ACCELERATING GLOBAL HEALTH: Pathways to Health Equity for the G20." The foreword for this book was penned by Dr. Mansukh Mandaviya, the Minister for Health and Family Welfare in the Government of India.
The editors of the book provided the following commentary on our chapter: "In their contribution, Ranga Reddy Burri, Robert Skov, B.E. Pradeep, and Ralf Sudbrak present a comprehensive overview of the growing threat of Antimicrobial Resistance (AMR), which poses significant challenges to healthcare systems and patient well-being worldwide. Their essay delves into the intricate facets of AMR, emphasizing the critical role of collaborative efforts, cost-effective interventions, alternative diagnostic methods, and innovative therapeutics in the fight against AMR. The analysis underscores the necessity for a comprehensive, multifaceted approach and calls for the active involvement of society as a whole to combat AMR."
I want to extend my heartfelt appreciation to my co-authors for their outstanding contributions and dedication. I invite you to take your time to peruse the book, and I would greatly appreciate it if you could share your thoughts and suggestions with me.
Warm regards,
Dr. Ranga Reddy