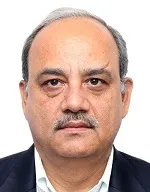 Founder Trustee
ARVIND VASUDEVA
Arvind's early passion with social causes started in Hyderabad with his association Child and Police Project (CAP) followed by NAANDI. He has been running Healthcare Centre in his ancestral village for the last 14 years where 400-600 people get treated every month. He is very passionate about channeling the power of Microbes, preventing their harmful effects and exploiting their beneficial effects having experienced both the aspects during his career.
Arvind Vasudeva brings over 34 years of professional work experience of which 18 years he was a Business Head, a COO and a CEO/MD. He brings a strong business acumen and strategic thinking from his experience in companies like Astra Zeneca,(1989) Dr. Reddy's as GM-Marketing (1995) , Wockhardt (2003) ,RPG Life Sciences (2006), Glenmark (2010), Aurobindo Pharma (2012).He has worked across Geographies, across Product Categories and across Therapies. He is widely travelled for business, International Symposiums and Workshops. He is and active participant in various Forums of Pharma Industry as well as Management Institutes.He was awarded "Udyog Ratna Award" by Institute of Economic Studies".
After practicing Coaching Leadership since 1995, Arvind got certified as a CEO/Executive Coach in 2008 from Coaching Foundation of India (CFI) He took one year sabbatical and did practice for I year in Mumbai in 2012.
In line with his passion about channeling the power of Microbes, Arvind in 2015 started his entrepreneurial journey and is currently a Promoter Director with Sanmed Healthcare Pvt. Limited, a Hospital Business focused company currently marketing Antiseptics and Disinfectants.To further his passion, he Co-founded Infection Control Academy of India (IFCAI) where he is Founder Trustee.
Academic Credentials:
1. M. Pharm (Pharmaceutical Technology)
2. PG Diploma in Sales and Marketing.
3. Certified CEO Coach.
4. Short Courses from IIM's and ISB.
Phone: 001-1234-88888
Email: arvind.vasudeva@gmail.com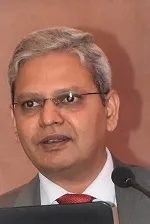 Founder Trustee
DR. RANGA REDDY
Dr. Ranga Reddy Burri is a Health policy enthusiast focused on public health awareness, education, and training. He is committed to the improvement of patient safety in India and other low resource settings. His vision is to improve professional practice standards for infection prevention and control across India and the setting of standards and framework for credentialing of infection control professionals.
Dr. Reddy is a Physician, Public Health specialist, and Social Entrepreneur with interest in business verticals of high social impact.
He graduated from Minsk Government Medical Institute, Belarus with MD (Physician) degree, subsequently he did his PG Diploma in management from Pondicherry University and Advanced Management from IESE, Barcelona, Spain with specialization in Strategy & Business Development.
Dr Reddy is the founder trustee of Infection Control Academy of India(IFCAI). The organization is a result of his leadership skills, knowledge and experience gained from working in both domestic and international MNCs. Yet, the Academy's most valuable strength lies in the strong sense of empathy for humans and their health imparted by Dr. Reddy and his colleague trustees. His effort has translated into creating several long term programs in IPC segment.
His current responsibility includes leading Sanmed Healthcare, a startup with world class manufacturing capabilities in external preparations. Additionally, he supports several non-profit organizations in the capacity of advisor including Neelam Rajasekhar Reddy Research Center for Social Progress & Indian Institute of Public Health.
His flair for entrepreneurship has led him to mentor through imparting knowledge to startups & micro-small enterprises.
Please find his profile summary by clicking the link below
Phone: 001-1234-88888
Email: dr.rangareddy@ifcai.in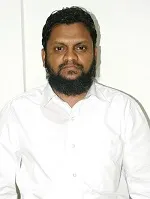 Founder Trustee
DR. MUSTAFA AFZAL
HEAD OF THE DEPARTMENT CLINICAL MICROBIOLOGIST & INFECTIOUS DISEASES CONSULTANT
Disciplined, confident, and goal oriented. Adept at giving superior written and oral presentations to group of experts. Motivate members of team toward common goals.
EDUCATIONAL QUALIFICATIONS
M.D. in Medical Microbiology Osmania Medical College, Hyderabad – India Year : 2004-07
NABH Assessor Course Narayana Hrudayalaya Hospital, Kolkata 16-20 March, 2013
Diploma in Hospital Infection Control Dip HIC (U.K) Health Protection Agency Colindale (U.K) Year- Feb-2011
Certificate in Infection Control (CBIC) American Board April 2013
Neurological Infectious diseases (U.K) Certificate course Liverpool U.K 2009 July
Clinical Laboratory Accreditation course Internal Audit NABL ISO 15189 2007 Banglore 2009 Dec
M.B.B.S. Deccan College of Medical Sciences, Hyderabad – India Year : 1992-97
Senior Registrar in Internal Medicine (MICU) Medicity Hospitals – Hyderabad – India Year: 1998-2002
Infectious Disease Certificate Course Hinduja Hospital, Mumbai- India Year: 2008
Quality Management System and NABL Accreditation training- ISO 15189: 2000 Year- February 2007 Quality Manager- NABL
Co-Chairperson- Infection Control Committee and Antibiotic Policy CARE Hospital, Nampally Hyderabad- India
Member of IAMM (Indian Association Of Medical Microbiologist)
Member of Journal Emerging Infectious Diseases (CDC Atlanta)
Member of European Society of Clinical Microbiology and Infectious Diseases.
Chairperson- High-end antibiotic policies CARE Hospital, Nampally Hyderabad- India
Consultant Microbiologist Premier Hospital Nanan Nagar- Hyderabad
Chairperson- Infection Control Committee Premier Hospital Nanan Nagar- Hyderabad
Phone: 001-1234-88888
Email: Info.deercreative@gmail.com